Advancement in technology has changed a lot of things in the business environment including how businesses are financed. In the past, entrepreneurs and startups rely heavily on banks and other financial institution for funding. However, this has changed rapidly with the emergence of Crowdfunding.
Crowdfunding is a way of soliciting funding from business angels and investors for new business ventures.
The whole idea of crowdfunding is really very simple due to technology. Business owners and start-up entrepreneurs can easily access business angel and venture capitalists for funding via the crowdfunding platform. They can also present their business ideas directly to internet users who provide financial support to encourage them.
In Japan today, most business owners and startup entrepreneurs are heavily relying on crowdfunding for their business growth. This has led to the emergence of several crowdfunding platforms in Japan. However, if you want to grow your business in a vibrant economy like Japan, you need funding from crowdfunding platforms.
Below are the Top 3 crowdfunding platforms in Japan;
ReadyFor

ReadyFor is a reputable and reliable Crowdfunding platform in Japan. It is rated among the best and largest funding platform in Japan. In 2011, about 40 projects successfully raised funds on ReadyFor.
In 2015, the number of projects that successfully raised funds on ReadyFor platforms increased to 1750. A 2017 report by Sugita Reveals that about JPY 3.2 Billion worth of funds have been raised to finance  5300 projects on this crowdfunding platform.
ReadyFor platform was initiated and launched by Ms. Haruka Mera in 2011. The process of accessing funds on this platform is relatively easy, just for you to present an attractive proposal for your project. The proposal should include the scheme of the plan as well as the amount needed to execute the project.
Makuake

Makuake is one of the largest Crowdfunding platforms in Japan. It was borne out of CyberAgent – A reputable internet service groups in Japan. As a funding platform, it was officially launched by Ryotaro Nakayama in 2013. Most funders on this platform are within the age of 30-50.
For every ten funders on this platform, six of them are males and four are females. As crowdfunding platform, Makuake is more concerned in funding Japanese made products. This is why about 90 percent of their funding goes to Japan made products while the rest goes to overseas. Unlike other crowdfunding platforms, a majority of the funding in Makuake goes to finished products like fashion products, general hardware, IoT hardware, etc. This platform has two different options for their fundraisers viz; "all or nothing" and "all in". All or nothing indicates that fundraisers will return funders fund if the target amount is not attained, while All in indicates that whether the targeted amount is reached or not, fundraisers can go with their money. The secret behind the success of this platform is its simplicity and reliability.
Makuake is NOT A REAL crowdfunding platform for Foreign Startups. 
For example, they need TELEC certification as a basic review condition for IT products. Don't waist 1 month to wait for their view if your product hasn't been mass-produced. (We failed before…)
As you know, crowdfunding is essentially a platform where entrepreneurs and founders list their products and concepts in a campaign and interested people can buy or support them with a pre-order or donation.
In this case, Makuake will not be a good choice for 0→1 IT startups in Japan.
Campfire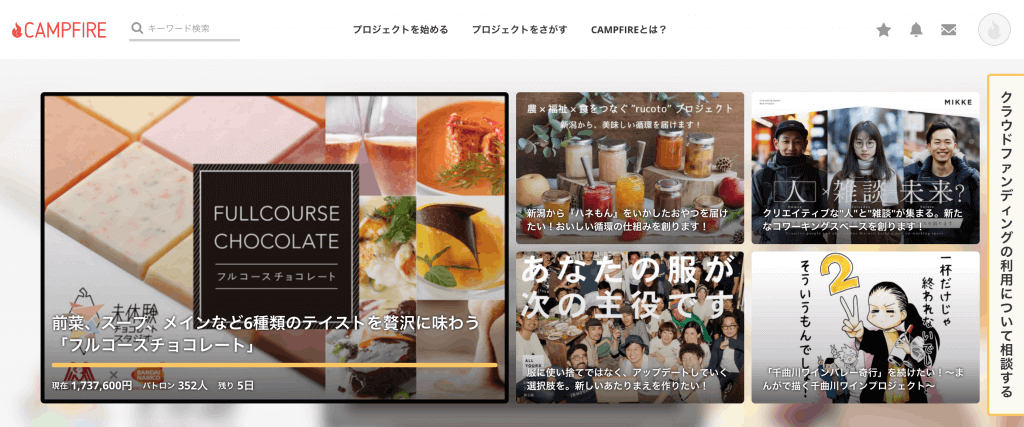 Campfire is a topnotch Fundraising platform in Japan. As at 2017 June, Campfire revealed that their funding has reached about JPY 1 billion Yen. Since inception, Campfire has successfully raised funds for about 6500 projects.
This funding platform was founded by Kazuma Ieiri in 2011, ever since then the platform has been performing fantastically. The platform supports whoever wants to start something new in Japan. Its activities are tailored towards contributing to the growth of Japanese economy by encouraging startup and aspiring entrepreneurs.
These are the top  3 crowdfunding website in Japan. You can approach any of them with an impressive proposal about your ideas, they will definitely help you raise funds if your proposal is attractive and promising.
Japanese are challenged when it comes to using English – you can't believe what it takes when consumers want to buy your product when all they see are contents in English! There are more than just borders to cross.
We're a new class of professional agency located in Tokyo and we specialized in helping foreign tech startups to launch their successful products campaign in the Japanese market.
As your topmost choice, We'll handle everything you need from start to finish.

Get in touch today and let Gloture help you Brand standout with Huge success in Japan.