Advancements in technology have changed many aspects in business environments, one of which is how businesses can be financed. In the past, entrepreneurs and start-up companies relied heavily on banks and other similar financial institutions for funding. However, this has seen rapid change with the emergence of crowdfunding.
The idea of crowdfunding is simple. Entrepreneurs can use various online platforms, such as Kickstarter, to solicit funds. Rather than large financial institutions, businesses directly present their ideas to everyday internet users and customers, as well as angel investors. This allows a lot more freedom and opportunity for the start-up business.
Today, most Japanese start-ups and entrepreneurs rely heavily on crowdfunding for their business growth.  As such, many Japanese crowdfunding platforms have popped up. However, if you want your want your small business to grow in Japan's vibrant economy, you need to understand what these different platforms can offer.
Below are the Top 3 crowdfunding platforms in Japan:
ReadyFor

ReadyFor is a reputable and reliable Crowdfunding platform. It is rated one of the best and largest funding platforms in Japan.
Launched by Haruka Mera in 2011, about 40 projects were able to successfully raise funds on ReadyFor that same year. Four years later, in 2015, the number of successful projects run on ReadyFor increased to 1750. A 2017 Sugita report revealed that, from the 5300 successfully funded projects, approximately ¥3.2 billion had been raised.
All you need to do to begin accessing funding on this platform is present an attractive proposal project. The proposal needs to include the project plan and the amount necessary to be able to execute the project.
Makuake

Makuake is  born out of CyberAgent – a Japanese internet service group – the funding platform was launched in 2013. Most Makuake funders are within the 30-50 age range.
Funders on this platform have a 60:40 male-to-female ratio. As a crowdfunding platform, Makuake focuses itself on funding products made in Japan. As a result, 90% of their funding goes to Japanese products, while only 10% go overseas. Unlike other crowdfunding platforms, a majority of the funding goes to already finished products, such as general hardware, fashion products, etc.
This platform offers two different funding options for their fundraisers: 'all or nothing and 'all in.' The all or nothing option, like its name suggest, means that fundraisers will return funds to the funders if the target amount is not reached. Meanwhile, all in allows fundraisers to keep whatever funds they gather, regardless of whether they reach their target goal or not.
The secret to the success of Makuake is the simplicity and reliability of the platform.
Makuake is NOT a good choice for International Startups. 
Makuake's parent company is a huge Japanese company. According to their vision mission and inner policy, it tends to help Japanese business and startups rather than international companies like us.  Makuake requires too many paper works includes TELEC certification as part of the review conditions for IT products. You can spend 2-month waiting for their review if your product hasn't already been mass-produced.
Crowdfunding is a platform where entrepreneurs can list their products and concepts in a campaign. Interested parties can buy or support them with a pre-order or donation. As such, Makuake is not a great choice for zero-to-one startups in Japan.
Campfire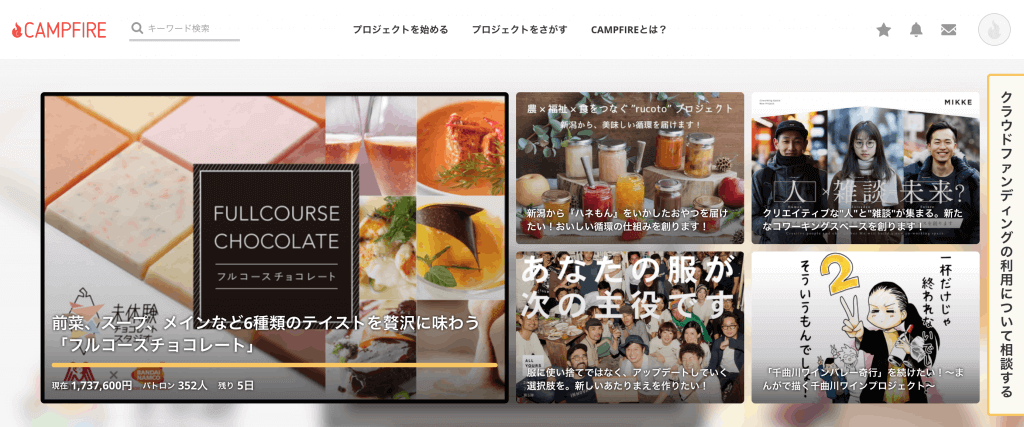 Campfire is a topnotch fundraising platform in Japan. As of June 2017, Campfire revealed that their funding had reached ¥1 billion. Since its inception, Campfire has successfully funded over 6500 projects.
Founded in 2011 by Kazuma Ieiri, the platform has performed fantastically. With its activities tailored toward contributing to the growth of the Japanese economy, Campfire supports anyone who wants to start something new in Japan. They strongly support and encourage startups and aspiring entrepreneurs.
And those are the top crowdfunding options in Japan. Provided you approach them with an impressive proposal of your idea, they can help you raise the funds you need to grow your business.
When it comes to English, the Japanese people struggle! You wouldn't believe the panic and dismay when they want to purchase a product, but give up at the sight of the English language.
Gloture is a new class of promotion agency located in the heart of Tokyo. We specialize in helping overseas startups to launch products in the Japanese market.
As the top choice in our field, we will handle each step from start to finish. 
Get in touch today and let Gloture help your brand standout with huge success in Japan!