Being able to exhibit your product is an effective way to get your name out to many people at once. Trade shows attract not only investors, but it gives the general public to see exciting new products and be the first to hear big announcements from big companies. Trade shows that allow people to test your un-released products are always a hit. The annual Tokyo Game Show took place from September 20th to the 23rd. The first two days were reserved for media-related people, and the last two being open to the public. Being that video games are popular around the world, from young and old, the Tokyo Game Show drew in a massive crowd.
This year (2018) there were over 298,000 people in attendance!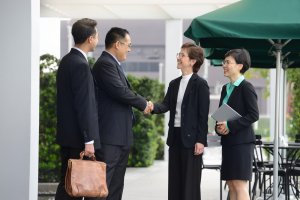 While not all trade shows are as large as the Tokyo Game Show, it is still an effective way to show off your new products. Being able to talk about and explain what your product does carries much more influential power than just hearing about it online in an article. This allows possible investors and customers a chance to get their questions answered quickly. Having to wait for a response from a company is frustrating. Often times it causes people to forget about the product. When they finally do receive a response the investor/customer may have already lost interest.
Tokyo is home to many various types of trade shows. You can find a list of upcoming trade shows here! But if you are planning on participating as a vendor, then you will want to send your applications early! There is much necessary prep work required, and documents that must be submitted. From planning your booth design and picking the size of your booth, to making sure you have all the necessary information translated and a staff that can speak Japanese, all this work is not possible to finish within a month. If you don't have anyone who is able to speak Japanese then how are you supposed to submit any of the documentation or even participate in the trade show?
We can help! Gloture is a Tokyo-based creative PR & Marketing agency offering Japanese market entry services for overseas companies entering into Japan. We will be your first partners in Japan. Instead of having you find multiple companies for your various needs, Gloture will be your one-stop shop. From submitting any necessary documents, to staffing the booth on the day of the show, we will be there with you every step of the way. Check out this article to read about our partner, Smach Z, and their success at the Tokyo Game Show!
For inquiries into event management and marketing services please contact us at info@gloture.co.jp