You will be hard pressed to find a business with no presence on social media outlets. Using social media networks is a quick and easy way to connect with customers and promote yourself.
Japan currently has 86% internet users. It boasts the 4th largest user numbers behind China, U.S., and India. Mobile users, amusingly enough, is over 120%. The average individual in Japan makes use of more than one mobile phone. Also, the majority of the Japanese population make use of their phone to access social media platforms over other internet capable devices.
With that much internet and mobile phone usage, social media presence is paramount. But, what platforms are best for an incoming entrepreneur?
Statistics
Even though a platform is the most popular at one point, it does not mean that a year later it will still be the top 1. Things change fast nowadays, you should always adapt your strategy and be aware of the trends or the potential future trends.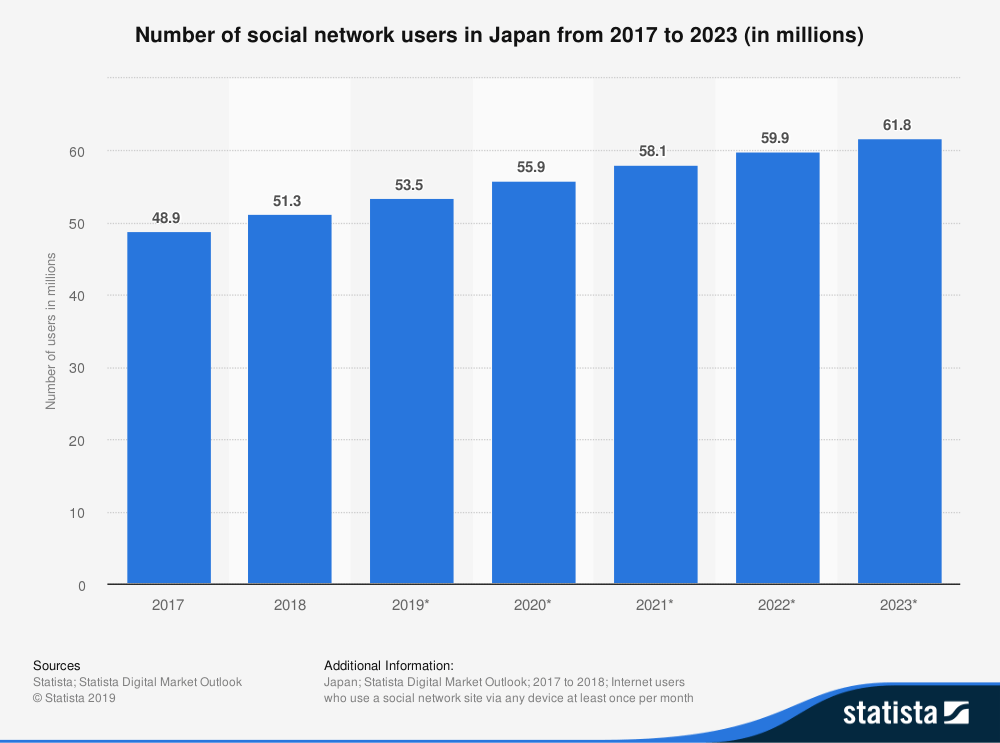 Social media have a huge impact on youth, but not only. According to Statista, the number of users in Japan will reach 61.8 millions in 2023. Therefore, many professionals use those platforms to promote their product or to find influencers, for example. It is an essential part of digital marketing and an excellent way to communicate with your customers.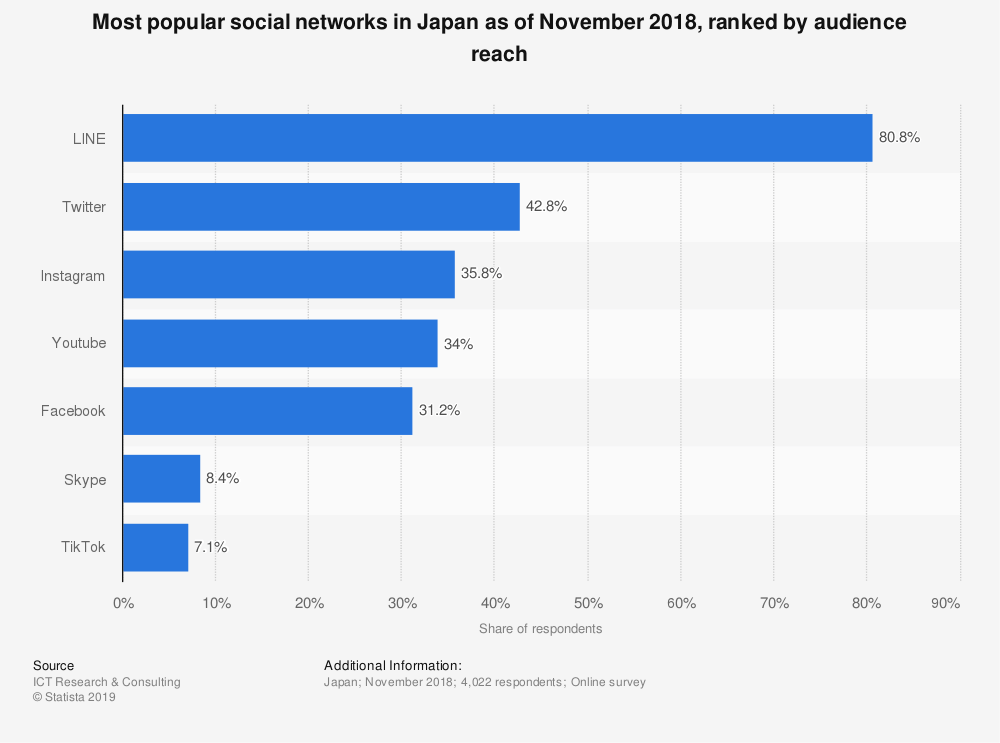 In 2018, LINE was ranked first, followed by Twitter, Instagram, YouTube, Facebook, Skype and TikTok. However, TikTok has become very popular among teenagers in Japan, with a 2019 penetration rate of almost 40% among people aged 13 to 19 years old (source: Statista).
LINE: JAPAN'S TOP MOBILE MESSAGING APP
There are a number of competitors in the mobile messaging arena, but the clear victor in Japan is LINE. There are about 80 million active users on LINE in the first quarter of 2019. Aside from its high popularity, it also greatly aided in communication during the 2011 Tohoku earthquake.
While being introduced as a social media platform only in 2017, LINE has long been a financially successful. In 2014, it pulled in $656 million thanks to:
Paid games for both solo and social play.
Stickers featuring a wide variety of characters.
Advertising deals with celebrities and big name brands.
Line branded merchandise.
It is safe to say it essential for your business to have some sort of relation with LINE in order to appeal to a majority of Japanese consumers.
TWITTER
A new study suggests that half of Japanese internet users have a Twitter account. As of 2015, the number of social media users in Japan rose to 26 million, 20.5% of the entire population. The usage of Twitter in Japan is expected to rise to 30.1 million users in 2018. Twitter has been able to strongly penetrate the Japanese social media space due to:
Anonymity: In Japan, privacy is very important. It is easy to create a twitter account using a fake name. This allows Japanese Twitter users to express themselves anonymously.
140 Characters: The 140 character limit is not so limiting in Japanese. It provides ample opportunity to fully express themselves with kanji, hiragana and katana.
Twitter took off in Japan in 2007, which coincides with the release of the first iPhone. Japan's reliance on smartphones over PCs was the perfect combination to allow Twitter to thrive.
INSTAGRAM

Instagram is among the fastest growing social media platforms in Japan. A 2016 independent research conducted by JTB, a tourism research and consulting company, found that 1 out of every 5 smartphone users in Japan logged into Instagram every day.
One reason for Instagram's popularity in Japan is due to the fact that visual expression is highly appreciated by the Japanese. Japanese users also love using filters, which are widely use on this platform. 2017 featured so much growth in Japan that some analysts dubbed 2017 as "the Year of Instagram."
FACEBOOK

As of 2019, the number of Facebook users in Japan sat at 22 millions (Statista). Facebook found difficulty penetrating Japanese social media because users were required to register an account with their real names, which removes the anonymity aspect of expressing one's opinion. This is why Twitter has been more popular.
However, there was a surge in Japanese users registering on Facebook, pushing out the previous social media champion, Mixi. The reason for this surge? The theatrical release of the film "The Social Network."
THE FUTURE IN JAPANESE SOCIAL MEDIA
Social media continues to be a fast growing trend among Japanese as they register one platform or another. The opportunities available on these platforms to expose your business, services and ideas to a larger audience cannot be denied. Doing business in Japan can be a smoother process with the proper use of the right social media network. There's no better time to tell your story than now.
When it comes to English, the Japanese people struggle! You wouldn't believe the panic and dismay when they want to purchase a product, but give up at the sight of the English language.
Gloture is a new class of promotion agency located in the heart of Tokyo. We specialize in helping overseas startups to launch products in the Japanese market.
As the top choice in our field, we will handle each step from start to finish. 
Get in touch today and let Gloture help your brand standout with huge success in Japan!