Japan is a cash-is-king society, with under 20 percent of contactless transactions (credit cards, rail passes, smartphone apps, etc.). Even when purchasing on e-commerce sites, cash payments remain frequent. While in the West, you don't always have the choice but to pay by card, many Japanese websites offer several options. If you want to enter the Japanese market, you must understand that and meet customers' expectations. Companies who don't make this effort have a higher rate of shopping cart abandonment and lose many customers every day. 
Online Shopping in Japan
Statistics
In Japan, the largest online market is fashion, but others such as the travel, electronic devices, food and beauty markets are also widespread. It results in an annual revenue of US$99,130m in 2020 in the Japanese e-commerce market (according to Statista). Around a quarter of interviewed households said having spent between 10,000 and 30,000 Japanese yen monthly via e-money payments in 2018. Besides, online customers are usually aged between 15 and 24 years (61%, 2017).
Many seniors, however, start using the Internet to shop. They don't have to go out to do grocery shopping and to carry everything back home. Because Japan is an aging society, it represents a golden opportunity for marketers.
Events
Also, some periods or days attract many customers, like in summer when many people receive bonuses and buy luxury or leisure items, plane tickets, etc. During Christmas and New Year too, people spend a considerable amount of money online (to reserve a product or just order). Other events such as White Day (March 14th) or Valentine's Day (February 14th) are popular in Japan, and Black Friday has started to attract customers too since 2016.
Different Payment Methods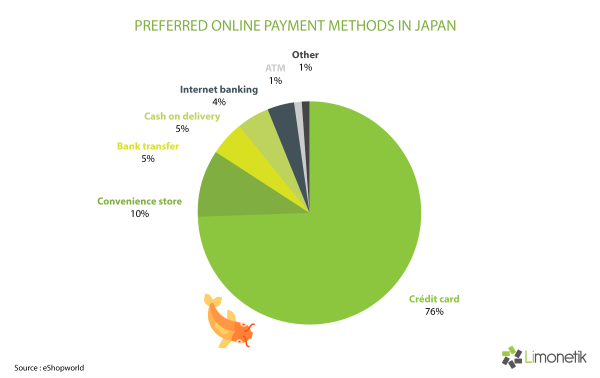 Credit Cards
Even though credit cards are not commonly used in physical stores, 76% of online transactions are realized with a credit card. It is the easiest and fastest way to pay, especially since you can save your card information and pay in a few clicks on many websites. 
Convenience Stores (Konbini) and Bank Transfer
The second preferred online payment is at the convenience store. Like bakeries in France or fast-food restaurants in the United States, you can find a convenience store in almost every street. Besides, the receipt is anonymous, so you don't expose your personal data, which is one of people's fears in Japan. You also have the option to pay in cash, by credit card (depending on the konbini) or to make a bank transfer via ATMs.
Cash on Delivery (COD)
Because cash is king in Japan and because people don't want to expose their data, COD is a popular option. However, it is better (because faster) if the customers have the exact amount, and they may have to pay an extra depending on the total amount of the order. If nobody is home when the delivery person arrives, some delivery companies such as Yamato Transport (Kuro Neko) offer good alternatives for the customers. 
Why Japanese Don't Like Credit Card Payments
Even if it is the preferred method of payment, paying by card is not common in physical stores. Many of them, especially small stores, don't accept credit cards at all. The reason is that people fear fraud and want to protect their personal data. Also, when cards are accepted, it is not often necessary to enter the secret code. For safety reasons, Japanese have one or more cards but avoid using them to pay (they essentially withdraw money). Other pre-charged cards are also widespread in Japan, which is safer and accepted in many places. Besides, because what is paid is accounted for at the end of the month, many Japanese see that as a debt and prefer to control their expenditures.
Biggest Japanese E-Commerce Sites
Amazon Japan
Monthly visitors: estimated at 597.18 million.
Amazon Japan has an English version, offers to pay monthly or yearly a Prime membership to receive your products in one day and has recently launched Amazon Video. 
Rakuten
Monthly visitors: estimated at 532.01 million.
Yahoo! Auctions Japan
Monthly visitors: estimated at 141.83 million.
Yahoo! Shopping Japan
Monthly visitors: estimated at 90.04 million.
Mercari
Monthly visitors: estimated at 85.11 million.
DMM.com
Monthly visitors: estimated at 73.79 million.
If you offer those payment methods on your website, you will increase sales. But first, if you want to attract more people on your website, check out how to boost traffic thanks to SEO in Japan.
If you need help to enter the Japanese market, we are here for you! Whether you
need a strategy
or
assistance
with your new innovative product, we
provide value
for your new product launch in the 
Japanese market
. We offer Crowdfunding Support and Digital Marketing Services, all under one roof. You can contact us
here
.
Reference:


medium.com/flagshipblog/payment-methods-in-the-japanese-e-commerce-ecosystem-58a223d76dcc




www.jpmorgan.com/merchant-services/insights/reports/japan




www.japantimes.co.jp/news/2019/03/29/business/cash-obsessed-japan-slowly-buying-digital-payment-systems/




www.kristenabroad.com/japan-savvy/cash-on-delivery-paying-in-japan/




disfold.com/top-e-commerce-sites-japan/




ecommerceguide.com/top/top-10-ecommerce-sites-in-japan/